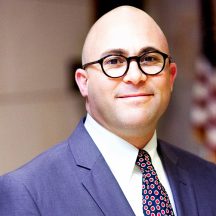 Josh Protas
---
Vice President of Public Policy
MAZON: A Jewish Response to Hunger
By promoting systemic change through better policies at the federal, state, and local levels, we seek to ensure that our elected officials understand and consider the needs of the millions of Americans who struggle with hunger.
What is the mission of your foundation and how does addressing economic equity and opportunity fit in?
Inspired by Jewish values and ideals, MAZON: A Jewish Response to Hunger, is a national organization fighting to end hunger among people of all faiths and backgrounds in the United States and Israel.
For more than 37 years, we've been committed to ensuring that vulnerable people have access to the resources they need to put food on the table. We're a leading voice in the anti-hunger field, developing strategic initiatives focused on communities that are at particular risk of hunger and have often been overlooked.
We recognize that we can't, even collectively, 'foodbank our way out of hunger'. The charitable and philanthropic sectors don't have the capacity to address an issue of this magnitude or to fully take on the root causes that perpetuate it. At MAZON, we look to government to realize our collective responsibility to care for members of our communities through public policies that can profoundly impact peoples' lives. By promoting systemic change through better policies at the federal, state, and local levels, we seek to ensure that our elected officials understand and prioritize the needs of the millions of Americans who struggle with hunger.
As you think about your work, what excites you? What is some of the work you are most proud of?
Federal policy work is long and arduous. We rarely have quick wins. You need to be committed for the long-term. As an organization with a small staff (25), we strive to be nimble and effective, leveraging our network of partners and supporters. We've carved out a role for ourselves by focusing on populations that are often overlooked in anti-hunger and poverty conversations by larger organizations and the government; in the U.S. that includes military families, single mothers, veterans, LGBTQ older adults, the people of Puerto Rico, and those living in Indian Country.
We work in these spaces as an allied partner, listening to understand their needs and priorities, being thoughtful about how we step forward to lead or back to create space for others, asking questions about how we can be useful. It takes discipline. What we've learned is that being a good ally requires humility. It means tamping down the need to be recognized—adjoining a cause, not driving it.
Although progress is slow, I'm proud to see people paying attention to issues they weren't noticing before. When we look at the active-duty military and veteran populations, for example, there's been huge progress over the last decade of our efforts. We're now at the point where Congress, the Administration, and federal agencies finally recognize the crisis of food insecurity among those who have served and are taking steps towards long overdue policy changes. In the realm of military hunger, MAZON has been instrumental in crafting the Military Family Basic Needs Allowance provision in the National Defense Authorization Act that aims to fill the gaps for struggling military families. And after years of advocacy, the Department of Veterans Affairs is now screening veterans for food insecurity. We're a small organization, so getting this type of movement from a federal agency is significant.
Our work to be an allied partner in Indigenous communities is gratifying, too. We're a part of the Native Farm Bill Coalition—the first non-tribal member—working to support and amplify the concerns and priorities of the coalition and making sure their efforts are not ignored by policymakers. It's an honor to work in this space and see the progress toward food sovereignty that many tribes are achieving.
The last thing I want to mention here is MAZON's Virtual Hunger Museum. It's an innovative and interactive resource designed to tell the story of hunger in the United States and how we've dealt with it over the last 100 years. If we want to understand how to address hunger in the future, we need to understand the history. The Hunger Museum will be useful for many different stakeholders: local agencies, policy makers at all levels, students, teachers, journalists, and more.
What do you see as the biggest barriers or challenges in your work?
It's such a polarized political environment. There's no longer even a shared understanding of basic facts. And then there's the rift in the understanding of the role and scope of the federal government in addressing national priorities. This polarized and dysfunctional climate makes policy efforts that much more difficult and impacts what's possible.
How does participating in the EOF network benefit your work?
There's so much learning that happens by engaging in EOF. While there's gridlock at the federal level, there are exciting innovations in states and communities. Learning about them, hearing about the opportunities to leverage impact, and how it might relate to our work— it's great to connect with those exciting possibilities amidst the challenging environment at the national level. I always have surprising conversations with people and unexpected sparks of ideas that come about as a result. They're meetings I always look forward to.
What is one question you would like to engage your funder colleagues in?
The work we do in Indian Country is in an area of such profound challenges—the relationship between tribal communities and the federal government, and the historical mistreatment of tribal nations. There's such a need to invest here in the journey to righting wrongs. I'm curious about what other funders are doing in this space. How do they embrace this in local work? Are there coordinated efforts to support tribal sovereignty related to economic opportunity and development? Clearly, the federal government must be a part of the equation, but what else could foundations be doing to leverage systemic change?
On a more personal level, how does one balance the hopes and aspirations of the work we do with the depressing political realities? How do we stay personally motivated? Optimistic?
Who is someone who has inspired you?
Jim McGovern, the Worcester, MA, Representative and ranking member of the House Rules Committee. He has been the biggest anti-hunger champion in Congress. He's been fighting to end hunger in this country for so long with relentless passion and drive. Congressman McGovern has effectively used the levers of power to lift the voices of those with lived experience and shape meaningful, impactful policies. As a result of his efforts, last year the White House held the second-ever Conference on Hunger, Nutrition, and Health, more than 50 years after the first Conference convened by the Nixon Administration.
Jim McGovern is the embodiment of a mensch—I've told him personally. He isn't afraid to speak truth to power and to use his influence to make change on the issue of hunger that he cares so passionately about. Going back to my question about remaining optimistic, the inspiration of Jim's leadership motivates me to keep going in this fight and gives me hope that we can achieve positive change.
Thank you so much Josh for your time and support of our network! If you'd like to reach out to Josh directly to learn more, he can be reached at jprotas@mazon.org.
This interview was completed by Sarah Griffiths, consultant to Economic Opportunity Funders.